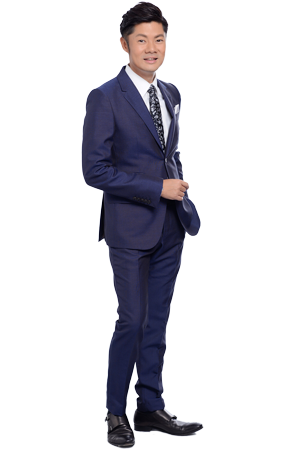 Our Founder
DANNY YEO, 杨君伟
Pure Talents is founded and helmed by Danny Yeo (Yang Junwei).
A well-recognised media personality in Singapore, Danny has years of rich experience in various fields.
Trusted emcee for top officeholders, dignitaries & VIPs
Prominent and established bilingual event host since 1998
Versatile in producing, planning and consultancy works for events
Effective trainer in corporate presentation and communication training
Experienced in theatre directing, feature writing and screenwriting
Award winning media & communications lecturer
Published feature writer & author of 5 books
Radio and Television
Danny came on stage in the media industry as the youngest male host on radio and television in 1991. He was among the top achieving personalities at MediaCorp's YES933 and anchored its morning drive-time show for five consecutive years while hosting Channel 8's TV variety shows Entertainment News and i-Entertainment. He was nominated as one of the Star Awards Top 20 Male Artistes and won Most Creative Deejay at the Golden Mike Awards in 2000. Danny was a key pioneer for Singapore Press Holdings' broadcast venture UFM1003 in 2001, where he was Creative and Music Director. Over the next three years at UFM1003, he introduced quality innovations such as a late-night counseling segment, an hour-long in-depth interview programme, an on-air reading club and the world's first radio forum theatre. Danny returned to television with Channel U's highest-rated tentpole programme Face Off! 这样是怎样 in 2015. The first season ran for 34 episodes touching on social issues and hot-topics-of-the-day.
Teaching and Training
In 2004, Danny broadened into education and lectured subjects such as radio production, speech communication and presentation skills. His unique interactive teaching style combines media skills, theatre techniques and theories of psychology. He has taught at various educational institutions including Singapore Management University, Singapore Media Academy and School of Management-Murdoch University's degree programmes and was twice honoured with Ngee Ann Polytechnic's Academic Award for Excellence in Teaching. Danny is frequently invited to be keynote speaker, facilitator and trainer for various public and private organisations.
Hosting and Performing
Besides being a highly sought-after event emcee and voice talent, Danny has been intimately involved in the world of drama. He has been a stage actor in over 20 theatre productions by Drama Box since 1994 and served on its Board of Directors since 2005. In 2010, he received a Straits Times Life! Theatre Awards' Best Director nomination for Bondage, his directorial debut. Danny won a National Arts Council grant to attend the prestigious La MaMa's International Symposium for Directors in Italy in 2012.
Writing and Publishing
Being effectively bilingual, Danny also writes in both English and Chinese. He was a music critic for The Straits Times and a movie critic for U-Weekly. Danny has been a magazine and newspaper columnist for years, as well as a published author of five titles, including Chang Suo Yu Yan (2004), My Voice – 77 voices straight from the soul (2004), My Voice – Breaking Free (2006), Wei Yan Song Ting (2007), and My Creative Room (2009 & 2011). He was a contributing author for the section on local Chinese music figures in Editions Didier Millet's The Encyclopedia of Singapore, produced by National Heritage Board in 2006. He was screenwriter and Mandarin dialogue writer for several local films, including Kidnapper (2009), Love Cuts (2010), WatercrAss (2012), Ghost Child (2013), and Meeting the Giant (2014). Danny has also written several theatre scripts and adapted English children's musicals into Mandarin productions.
Serving and Volunteering
Danny was the Executive Producer and Organizer of Hands United Project, a fundraising CD album for tsunami survivors in 2005. It gathered Kit Chan, Joi Chua, Sun Ho and many other artistes who supported Habitat for Humanity's efforts in building homes for the needy. Besides having been on The Straits Times' Panel Advisory Comittee, Ministry of Education's Bicultural Taskforce's Social Bonding Workgroup and National Arts Council's Singapore Writers Festival Steering Committee, he has also served on various governmental advisory committees:
National Library Board
Chinese Library Services Advisory Panel (2005-2006)
Community and Outreach Programmes Advisory Committee (2006-2007)
Read! Singapore Campaign's Reading Ambassador (2006-2007)
Professional Mentorship Programme (2006-2007)
Public Library Services Advisory Committee (2007-2011)
Library Consultative Panel (2014-2023)
National Arts Council
Singapore Writers Festival Advisory Committee, 2015-2017
Song Advisory Panel for Singapore's 40th Anniversary, NDP 2005
Advisory Panel for Singapore Music Festival, 2005-2006
Promote Mandarin Council
Contributing Member in Resource Panel in Brainstorming, 2006-2008
Active Council Member, May 2008-Apr 2011
Ministry of Education
Assistant Leader of CPCLL's Outreach and Engagement Group, 2016-2020
Member of Committee for Promoting Chinese Language Learning (CPCLL), 2008-2020
Media Development Authority of Singapore/Singapore Film Commission
Script Assessor for Film Assessment Panel, Jan 2013-Dec 2016
Ministry of Communications and Information (MCI) REACH Supervisory Panel (2010-2016)
He currently sits on:
National Library Board's Library Consultative Panel (2014-2023)
MCI and IMDA's Advisory Committee for Chinese Programmes (2019-2024)
Chinese Development Assistance Council's Stakeholders Communications Committee (2020-2024)
After travelling to Malawi in 2004 as a photojournalist for World Vision Singapore, Danny became a proud child sponsor and was appointed Goodwill Ambassador of World Vision Singapore (since 2009).
Danny graduated Summa Cum Laude (First Class Honours) in Mass Communication and Journalism from California State University Fresno, and pursued a Masters in Counselling (Social Sciences) with the University of South Australia.